You might know what SoftMac is, but are more likely familiar with Basilisk II, SoftMac was a commercial Macintosh Emulator created by Emulators Inc in the 1990s that is now freely available on their site.
SoftMac has a few benefits over Basilisk II for helping you set up your Classic Mac:
SoftMac supports both System 6.x and System 7.x. Basilisk II only supports System 7.x
SoftMac supports true hard drive emulation using image files, meaning that you can use SoftMac to initialize image files (3GB or less) created from physical media, and then write those image files back on to the media for use in a real 68k-based Macintosh computer. Basilisk II treats image files as partitions. I have found some other emulators that also let you initialize and partition image files.
BUT… SoftMac seems to be limited to supporting drive image files of 2857952 KB = 2.7 GB or less 🙁
The main weakness of SoftMac is that it's only available for Windows Systems (perhaps Mac/Linux with WINE?)
Like Basilisk II, running SoftMac on a modern Windows system (perhaps under Linux/Mac with Wine/PlayOnLinux/PlayOnMac?) will allow you to make changes to the minimal disk images I have on this site or ones you've created before you copy the image on to the matching floppy disk (or floppyEMU), Iomega Zip Disk, CD-ROM, or SCSI2SD SD card etc.
Because SoftMac is already well documented on sites like Emaculation, I'm only going to describe the basics of how to setup SoftMac so you can use it to add or remove files from the disk images available to download on my site, to help you setup your 68k Macintosh.
1. Download and install SoftMac
The latest versions for Windows and Dos (not native MacOS and Linux support) can be found on Emulator.com's website.
Create a destination folder on your system that you will install SoftMac in.
Unzip version 8.2 in to the installation folder you created (Figure 1)
SoftMac 8.2 is now installed, but not quite ready to run.
2. Download and select a ROM file
To run SoftMac you'll need a file containing a copy of the ROM from the 68k Macintosh System you want to emulate. Luckily these ROM files are now available on the internet archive and can be used for personal/research purposes.
SoftMac comes pre-configured with profiles for:
Macintosh Classic series (this includes the Plus)
Macintosh II series
Macintosh Quadra series
I've personally tested SoftMac with the following ROM files from the internet archive:
If you are downloading the bios files from the internet archive, I found I had to edit the file names for them to work with SoftMac, e.g. 06684214 – Quadra 630.ROM became Quadra630.ROM
I suggest putting the ROM file in to the same installation folder as the SoftMac application unless you plan on running multiple emulators.
3. Create or download a hard drive "image file"
Disk images are essentially binary (bit for bit) copies of the contents of a storage device or medium such as your Hard Drive, removable drive, memory card or CD-ROM (ISO files) including the boot sector etc.
If you are hoping to use SoftMac to help you set up a real Macintosh system you'll want to read a separate blog entry I've written that explains what drive images (vs. partition images) are and how to create them, the same blog entry also has links to image files I've already created with the minimal versions of System 6.0.8 and System 7.5.5 already installed along with some other useful utilities. Note: not all systems can boot System 6.0.8.
For this walk through I'm going to use my 2GB System 7.5.5. image file that I created for use with SCSI2SD as my boot drive and a blank image file that I'm going to reinitialize and re-partition.
4. Configure SoftMac
The first time you run SoftMac it will launch an auto-configuration wizard that will step you through the setup process:
RunSOFTMAC.exe
SoftMac will prompt you that it is running the Auto-configure program (Figure 2), select OK.
SoftMac will then prompt you asking if you want to use a ROM file or a ROM card (Figure 3), select OK
SoftMac will prompt you to select the location of the ROM BIOS file(s)
The ROM BIOS Setup window (Figure 4) will appear:

Press the Scan button, the list of available ROM BIOS image files should appear in that list.
Select Close

The SoftMac profile selector (Figure 5) should now be displayed.
Select the profile you want to edit or copy, I'm going to select the Classic profile with a Macintosh Plus BIOS for this example.
Select the properties button.
The Properties Window (Figure 6) let's you:

Change the resolution: only 512×342 is available in the classic profile (higher resolutions are available under the other 2 profiles)
The amount of memory: select 4M (more memory is available under the other 2 profiles)
The BIOS file: I've selected the Macintosh Plus file v3 from the internet archive.
Check the Windows file access check box
Press Disk Properties

The Disk Properties Window (Figure 7) let's you:

Map the emulated MAC's drive to a floppy drive or image file. If you don't intend to use this, I suggest disabling it. I found SoftMac started significantly faster with floppy drive emulation disabled.
Map your CD-ROM or Hard drive images. For this example I'm mapping 2 image files:

SCSI 0, my boot drive, my 2GB OS 7.5.5 image that I created for use with SCSI2SD, and
SCSI 1, a second "blank" file that I created that I'm going to initialize under SoftMac.

Select Close

On the Properties Window (Figure 6) select Save, and then Ok
On the profile window (Figure 5) select the profile you just edited, and press the Restart button.
If you followed my guide, and you should now see the Mac Desktop in SoftMac (Figure 8)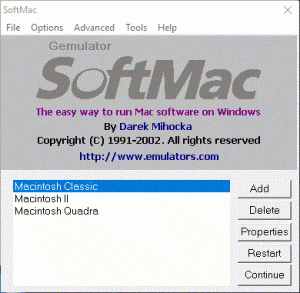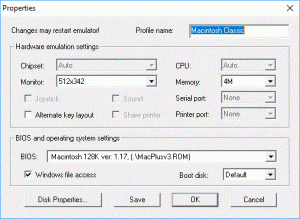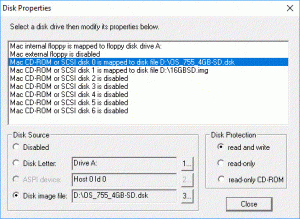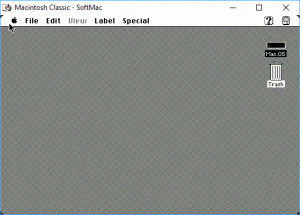 5. Using SoftMac to initialize an image file
Now that you've configured SoftMac and booted from one of my images, you'll need to initialize the blank image you created from scratch or from an SD card or other drive/device.
Read my entry on how to Initialize and Partition your Hard Drive
For SoftMac there appears to be an upper limit of 2857952KB for each drive (Figure 9).
Once the image has been Initialized, you can copy files from my image to your new image, e.g. the OS folder etc. then write your image on to your SD card, or real drive.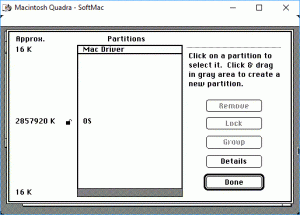 6. Using SoftMac to edit image files
If you are using one of my drive images as your boot disk under SoftMac, under the Drivers and Extensions folder you'll find a folder called Softmac, inside the SoftMac folder is an application called Transfer that will let you move files to and from your Emulated Mac and the host system.