I've been a fan of Sierra games since 1988 when I bought a Tandy 1000SX as my first high school computer and picked up the Sierra Value Pack with Thexder, Helicopter Simulator, and Space Quest II at the same time. So when I first started playing around with old Macs in the late 90s (when they were dirt cheap and easy to find), I quickly found out that the Sierra AGI games were not well supported in the Macintosh world.
1. Reconstructed the timeline for Macintosh AGI releases
When Sierra first started making their Adventure Game Interpreter (AGI) games available for the Macintosh in 1987, they were originally only available as Black and White (1bit) versions. By reading scans of Sierra's old newsletters and back issues of MacWorld I've been able to piece together an approximate timeline for when the various AGI games were made available…. and when they stopped being produced.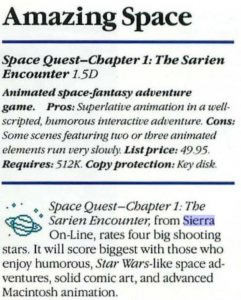 September 1987, Kings Quest I, Kings Quest II and Space Quest (b&w) were first listed for sale from MacConnection in MacWorld
Fall 1987, Sierra's Newsletter Volume 1 No. 2 lists the above games and Kings Quest III (b&w), The Black Cauldron, Leisure Suit Larry (b&w), a 3-d Adventure Demo Disk, Sierra Championship Boxing and Donald Duck's Playground (?) as available (figure 2).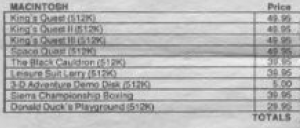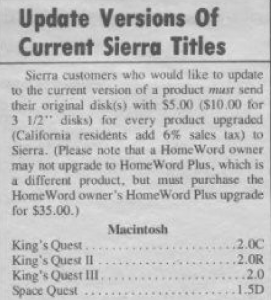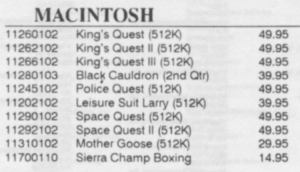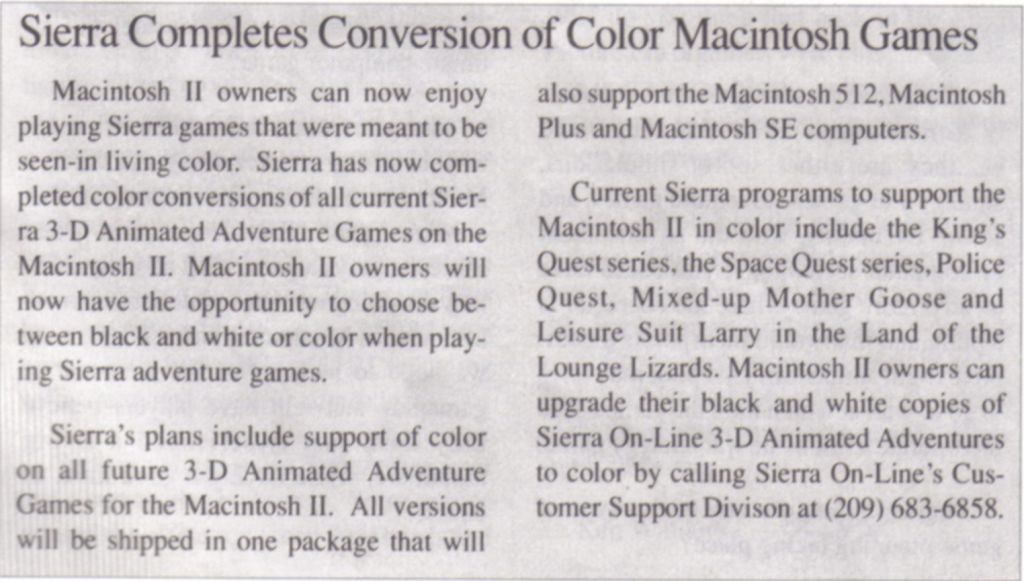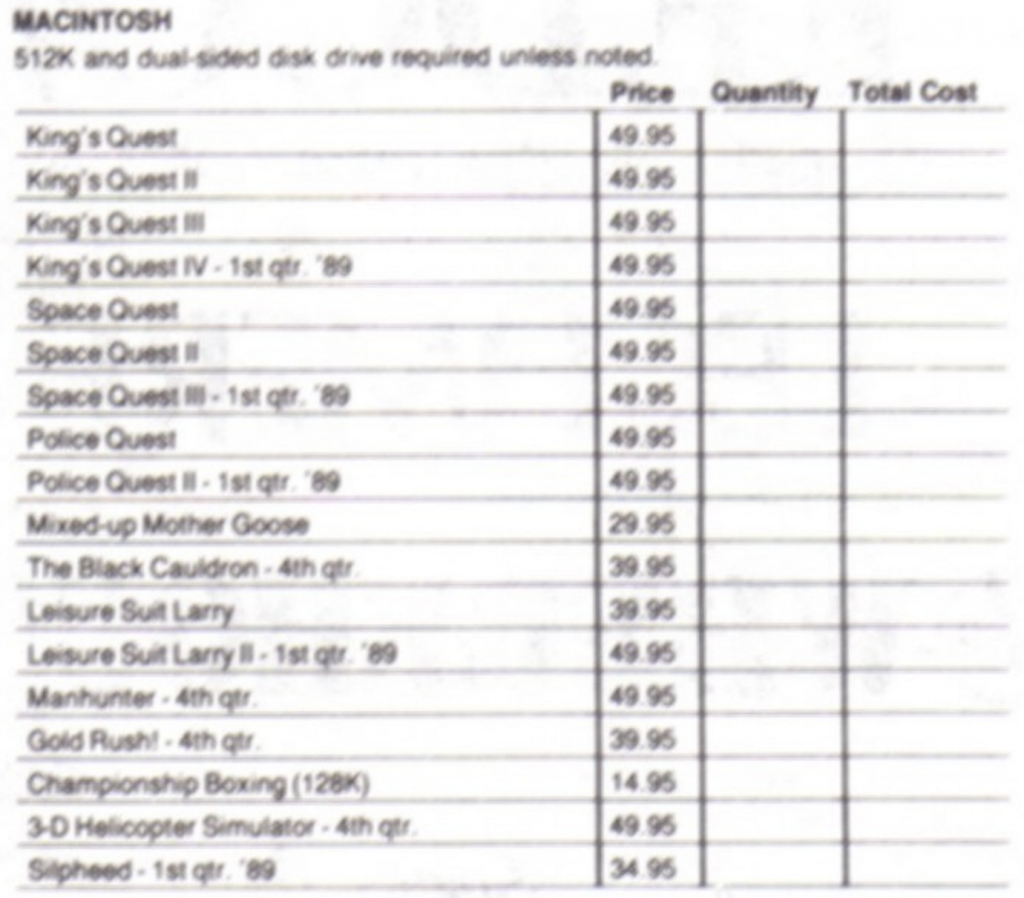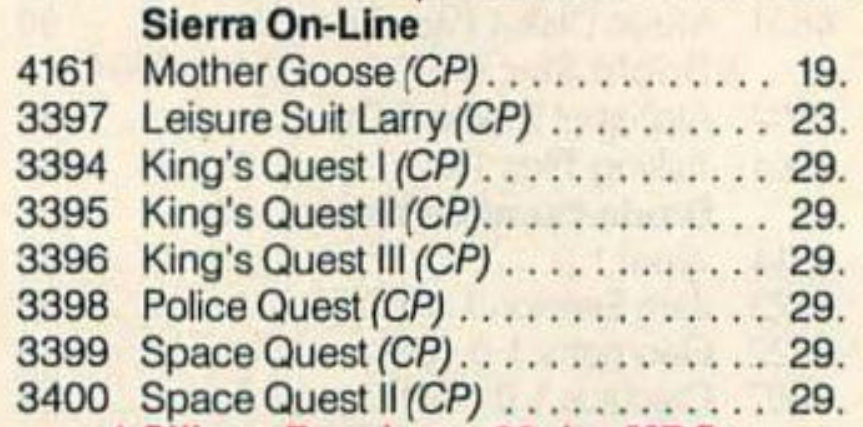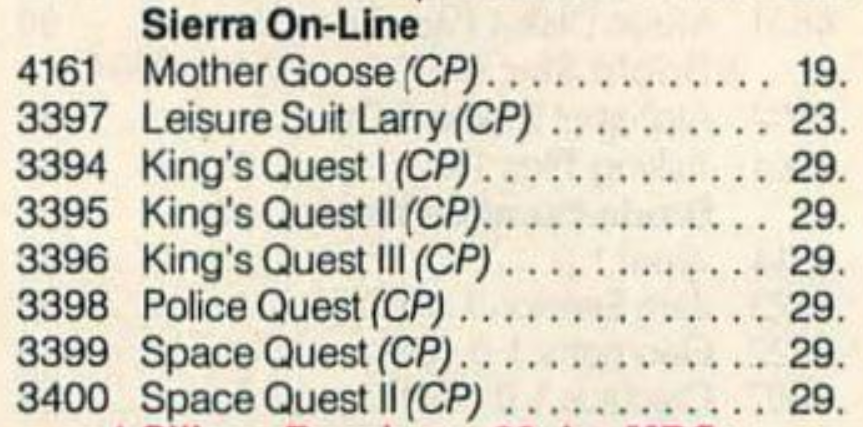 That's it, Manhunter II seems to be the last AGI sierra game ever released for the Macintosh. King's Quest IV, Police Quest II, Leisure Suit Larry II were never released.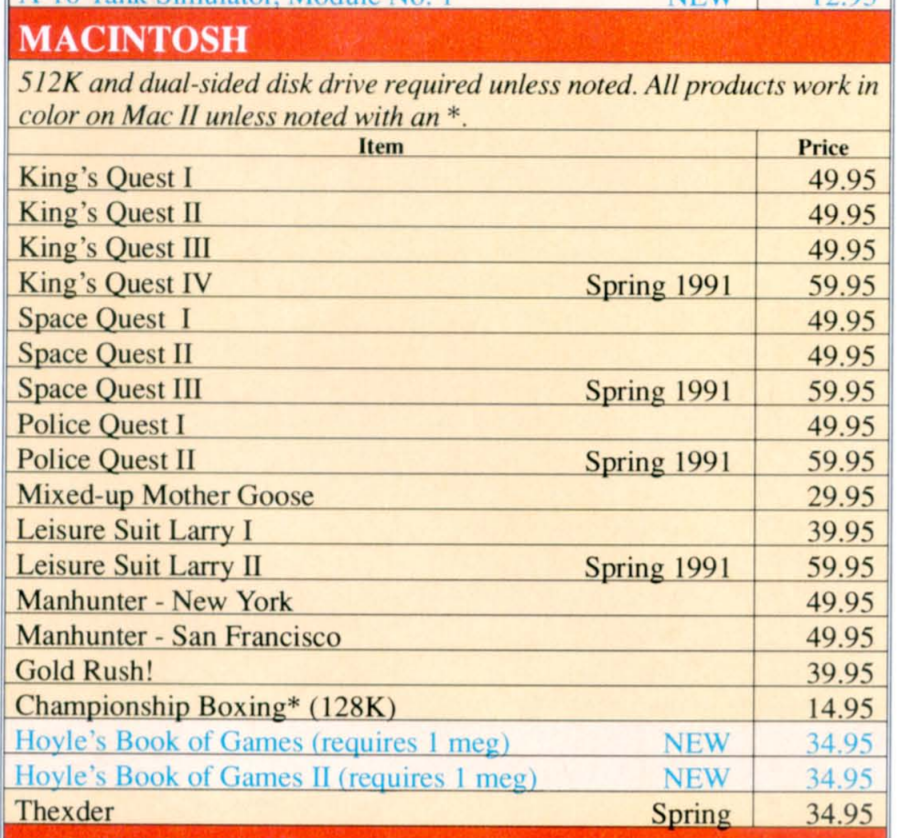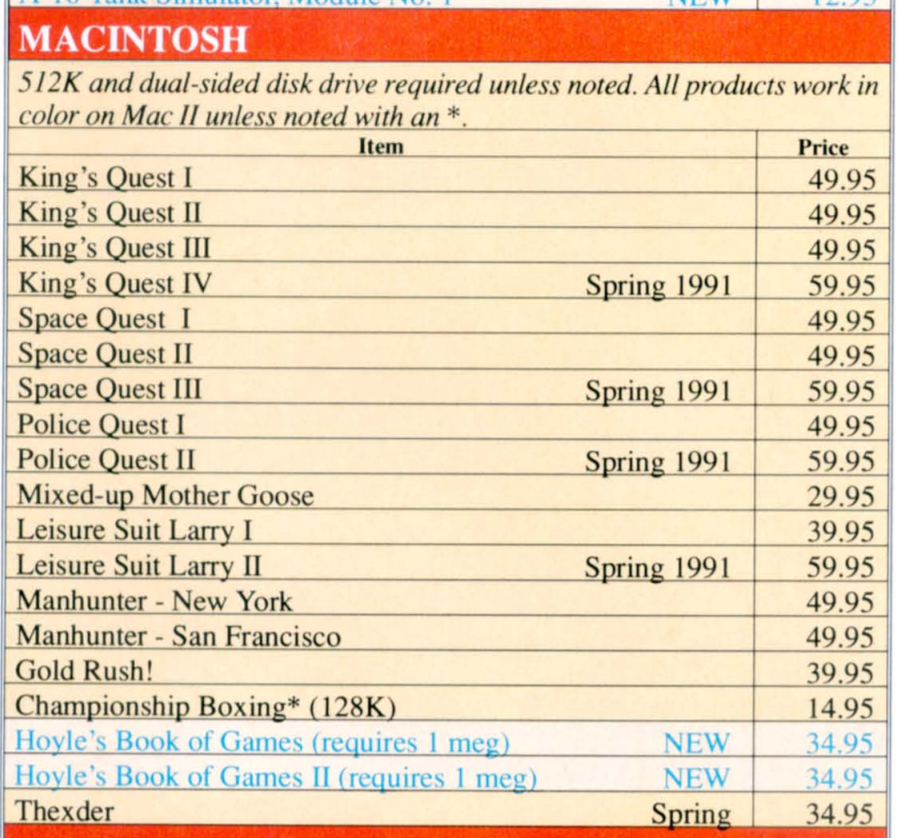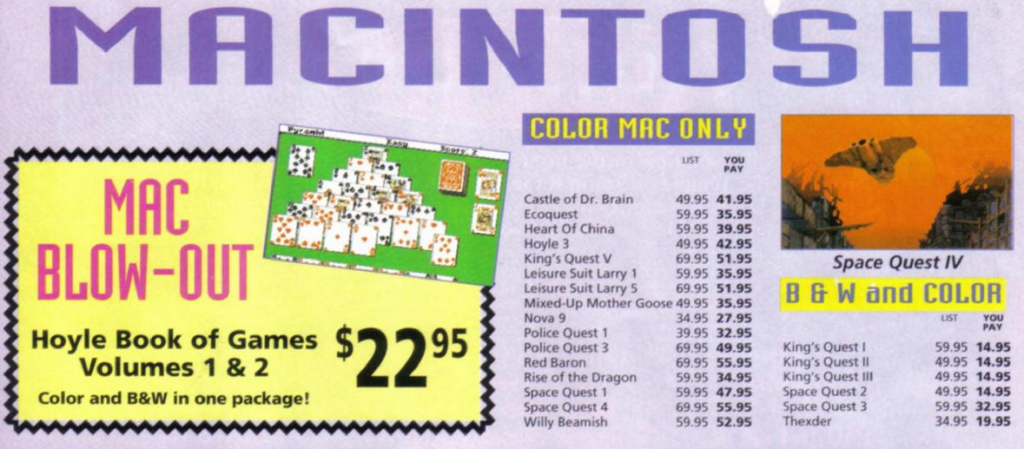 2. 32-Bit QuickDraw killed AGI?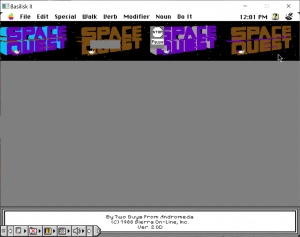 All of the Sierra AGI games that support 16 colors suffer from the same problem, when you try to play them in color on anything other that an early Macintosh II system, you see a screen similar to figure 13 above, making the game unplayable in color.
Based on the response to the issue with 32-Bit QuickDraw (New Mac Users Encounter a Mysterious Phenomenon, page 29), in Sierra's Summer 1990 Newsletter Volume 3 Number 2, it appears that Sierra's AGI games were incompatible with changes made when Apple moved from the 24 bit version of Color Quick used by early Macintosh II systems to the 32 bit version built in to ROM starting in the IIci, and all future color Macintosh systems.
What's not clear to me, with the final sale of some games 2 years later in 1992 (figure 12) , did Sierra fix the problem, or did they try to sell off games they knew wouldn't work on newer color Macintosh Systems?
So far I haven't found a color version that works on anything other than a Macintosh II system… but someone else appears to have Space Quest II 1.51 running in color on a Quadra 700, the copy appears to be from the Macintosh Garden, and the Quandra appears to use 32-Bit QuickDraw? I've tried this same version on my LC475 and experienced the issue shown in figure 13, so I'm not sure why this works on the Quadra 700 but not on other systems?
At the moment, your best bet to play a Sierra AGI game in color on a Macintosh is either a real Macintosh II (pre IIci), the mini vMac Macintosh II build, or to play the Apple II versions, on a compatible 68k Macintosh, using an Apple IIe emulator card, or Apple II emulation software.
In the future perhaps someone with more time then I have might patch this issue, or create a Macintosh 68k version of Sarien or ScummVM.
3. Summary table AGI releases for the Macintosh
| Game (AGI Interpreter) | B/W | Color (Mac II) | Version (AGI) |
| --- | --- | --- | --- |
| 3-D Adventure Demo Disk | ? | ? | ? (figure 2) |
| Black Cauldron, The | No | No | Not released |
| Donald Duck's Playground | ? | ? | ? (figure 2) |
| Goldrush! | Yes | Yes | 2.01 (1.78) |
| Kings Quest I | Yes (fall 87) | Yes (spring 89) | 2.0C (1.50) |
| Kings Quest II | Yes (fall 87) | Yes | 2.0R (1.50) |
| Kings Quest III | Yes (fall 87) | Yes | 2.0 (?), 2.14 (1.52) |
| Kings Quest IV | No | No | Not released |
| Leisure Suit Larry I | Yes | Yes | 1.0 (?), 1.05 (1.55) |
| Leisure Suit Larry II | No | No | Not released |
| Manhunter – New York | Yes (fall 89) | Yes (fall 89) | 1.22 (1.79) |
| Manhunter – San Francisco | Yes (spring 90) | Yes (spring 90) | |
| Mixed-up Mother Goose | Yes (fall 88) | Yes | 1.57 |
| Police Quest I | Yes (spring 88) | Yes (spring 89) | |
| Police Quest II | No | No | Not released |
| Space Quest I | Yes (Fall 87) | Yes (spring 89) | 1.5D (?), 2.2 (1.64) |
| Space Quest II | Yes (spring 89) | Yes (spring 89) | 2.0F (1.73) |
| | | | |
| | | | |
The version numbers (and AGI interpreter version) in this table is based on the upgrade tables shown in Figure 4 and Figure 10, any mentions of versions in product reviews, and versions in my own collection. I'm still going through my collection using the Macintosh II emulator so I can actually load the games…. many crash on load on my LC 475.