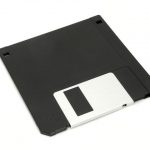 Booting your classic 68k Macintosh from a 3.5 inch floppy disk was the most common and the easiest way to get most classic macs working when your starting with a more modern machine (most, but not all, more on that in a bit).
This post focuses on 3.5″ High Density (HD) disks that can be created using modern USB floppy drives.
I will create separate posts describing how to get started using 400k and 800k floppy disks using either a intermediary Macintosh that supports both these the HD format, or using floppy-emu to emulate these old drives.
There are also several other options, that you should also look in to if you plan to start playing with these 1980s and 1990s systems.
Assumptions
Whoever is reading this knows what a 3.5 inch floppy disk is 🙂
You have a working 3.5″ USB floppy drive and some disks.
Your classic 68k Macintosh turns on, and is prompting you to insert a disk. If your 68k Macintosh does not turn on, or does not show the insert disk icon, you may need to do some repair work before you proceed.
That the floppy drive in the old Macintosh you're trying to boot hasn't failed (common problem is the deterioration of the auto eject gears).
You plan to use an internal or external hard drive (or equivalent), to actually make use of your Classic 68k Mac (all versions except the Macintosh 128k support some form of external or internal hard drive). If you do not have a hard drive or equivalent, there are other options such as: using a RAMDisk, a CD-ROM, or running applications off another system using Apple Share over Local Talk, or Apple Share over Ethernet.
For this post, I used an external 3.5 inch, USB 1.44MB floppy drive I picked up a few years ago when I retired the last of my "more modern" computers with a built in floppy drive. As I write this (late 2017), the price of these drives are in the $10 to $20 CDN range, what's becoming expensive are the disks themselves, they are about $30 per package of 10 (these used to be closer to $3 per package of 10 or less in the 90s).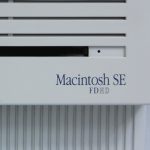 Step 1: Determine if you can use this method
This method will work for the majority of 68k Macintosh computers except:
The 128K, 512K, 512Ke, and Plus do NOT support this method.
The SE and II, likely do not, BUT both could be upgraded to support a SuperDrive, so these may support this method. Note: Starting in August 1989, Apple began equipping the SE with a SuperDrive, those systems will have a label on the front "Macintosh SE FDHD"
| Macintosh Model | 400k | 800k | SuperDrive |
| --- | --- | --- | --- |
| 128K | yes | no | no |
| 512K | yes | no | no |
| 512Ke | yes | yes | no |
| Plus | yes | yes | no |
| SE | yes | yes | if upgraded (SE FDHD) |
| II | yes | yes | if upgarded |
Step 2: Selecting your boot disk
I've made 2 main types of boot disks, both formatted using the Hierarchical File System (HFS):
An OS 6.0.8 Boot disk for older 68k systems that may only have 1MB of memory installed.  The SE/30, Classic, Classic II, Portable, II, IIx, IIcx, IIci, IIsi, LC typically shipped with only 1 MB of memory.  I've managed to track down a scan of the Apple Memory Guide from November 2000 (pdf) that shows how to upgrade the memory for these and other 68k systems.
An OS 7.5.0 Boot disk for most of the 68k systems (should work for all except the Powerbook 190 and 2300) that have 2MB or more memory installed.
Each disk contains:
The system folders for either System 6.0.8 or System 7.5.0, containing the "minimal" files to boot.
A patched version of HD SC Setup 7.3.5 for formatting your SCSI HD or equivalent once you've booted your Macintosh (patched to support non-Apple SCSI Drives)
An application called DropDisk that allows you to quickly mount and use other disk images
I've created 4 different versions of each image, the first .dsk format can be used with emulators and floppy-emu, and is the default version for the methods described in step 3 to write to a physical floppy disk. The other versions are in Disk Copy 4.2 formatted, and if you know what that is, you already know how to used these.
The table below is a subset of the images I have created, I have a separate page with a complete list of image files etc. I have created for download.
Step 3: Creating your bootable HFS Floppy Disk
I've created a separate post that describes how to copy .dsk images back on to a physical disk.