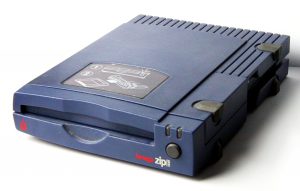 I've recently been experimenting to see if I could somehow use of my old Iomega Zip drives (a 250MB USB version, and a 100MB SCSI) to move files between my Windows PC and my various 68k Macintosh Systems.   After a bit of experimentation I discovered how I could not only move files, but also create a disk image that would allow me to use my Windows PC to make fully bootable Zip disks for use with any of the SCSI capable 68k Macintosh systems.
So, similar to my entry on setting up using a floppy disk, I created boot images for System 6.0.8 and System 7.5.5.
Assumptions
Your classic 68k Macintosh turns on, and is prompting you to insert a disk. If your 68k Macintosh does not turn on, or does not show the insert disk icon, you may need to do some repair work before you proceed.
Your classic 68k Macintosh supports and is connected to an external or an internal Iomega Zip drive.
You have a working SCSI 100MB Iomega Zip drive attached to your 68k Macintosh System, set with a valid SCSI ID and with the terminator enabled if it is at the end of the chain.
You have a working USB 100MB or 250MB Iomega Zip drive to connect to your Windows, OS X or Linux System using USB, SCSI or IDE.
You have at least one, 100MB Zip disk that you plan to use
Step 1: Determine if you can use this method
This method will only work for 68k Macintosh computers that have an internal Iomega Zip drive, or have a working SCSI or PCMCIA connector for an external Iomega Zip drive. Otherwise, you will need to use one of the other setup methods I've previously identified.
I've used this method to write an 100MB image file to both:
a USB 250 Zip drive attached to my Windows 10 PC, and
a 100 MB SCSI Zip drive attached to my Windows 10 PC using a SCSI controller card.
Step 2: Selecting your boot disk image
You can use one of mine, or create your own (I've created another blog entry to explain what drive images are, how to create them and with a summary table of all the drive images I've created).
First determine which operating system you can, or want to run on your classic Macintosh.
For Iomega Zip drives I've made 2 types of bootable drive images, both formatted using the Hierarchical File System (HFS):
A 100MB OS 6.0.8 Bootable image (zipped, 5MB) for older 68k systems that may only have 1MB of memory installed. The SE/30, Classic, Classic II, Portable, II, IIx, IIcx, IIci, IIsi, LC typically shipped with only 1 MB of memory. I've managed to track down a scan of the Apple Memory Guide from November 2000 (pdf) that shows how to upgrade the memory for these and other 68k systems.
A 100MB OS 7.5.5 Bootable image (zipped, 5MB) for the remaining 68k systems that have 2MB or more memory installed.
For information on the content of these images and how to edit these images see my entry on creating a bootable disk starting with a disk image.
For other images I've created a separate page with a complete list of image files etc. I have created for download.
Step 3: Creating your bootable HFS ZipDisk
I've created a separate blog entry for how I write the images back to physical drives and how to create your own images if you do not want to use one of mine.
Step 4: Booting your 68k Macintosh from your SCSI Zipdrive
Depending on your setup, your 68k Macintosh System may try to boot from a different drive than your Zipdrive. On some Macintosh Systems, you can use the following keyboard combination to specify the boot drive:
Command-Option-Shift-Delete-#
Boot from a specific SCSI ID, where # is 0
through 6