When I first started playing with 68k macintosh systems around 1999/2000 (a Macintosh Plus) I connected an external SCSI drive to my Windows 98 system and was able to use an early version of Basilisk II with SCSI pass-through to format the hard drive. Now 18 years later, SCSI is an obsolete technology, and in general is not supported under the latest versions of Windows and the the Macintosh OS, although I believe Linux still has support.
Luckily a skilled person on the internet has made 64-bit compatible drivers to support some of Adaptec's cards under Windows 10 (sorry I've found nothing for the latest version of the Macintosh OS). I've personally tested the Windows 10 driver for Adaptec AHA-29xx cards with an AHA 2940U PCI card.
I'm not sure how much longer using SCSI controllers will be supported, so if you don't already have working SCSI devices I'd suggest you invest in one of the more modern solutions such as SCSI2SD for setting up your classic Macintosh instead of using this option. But, if you're like me, and do have a bunch of old hardware, it's good to know we can still use it on our modern systems to setup our aging systems for at least a couple of more years.
Step 1: Will these work with your card?
I'm not the creator of these drivers, so I can only vouch for cards I have personally tested them on. Let me know in the comments if these drivers did or did not work, for which card and for which version of windows.
Reported as NOT working:
AHA-2940U2W (by Kurt)
Adaptec 20160 (by Chris Hughs)
Reported as working:
LSI 20320IE (by Kouryu)
LSI 22915 (53C1010-66 chipset) (by Ray Oncidar)
LSI 22802 (53C986 chip set) (by Ray Oncidar, see comments)
IBM FRU 40H6595 with LSI chipset 53C875 (by Ray Oncidar, see comments)
AHA-1480 (by Eric Woolf, if edited, see his comments, I have not updated the driver yet)
AHA-2930 (by Brian Kolins)
AHA-2930U (by Fanie)
AHA-2940AU (by Knutbert, in comments below)
AHA-2940U (by me)
AHA-2940UA (blascow, author of the driver, the original thread)
AHA-2940UW (spacek, in comments below)
AVA-2903B (mdlark1966, original thread)
AVA-2904 (Richard Osborne)
AVA-2905E (leo)
AVA-2906 (harry, in the comments below)
Adaptec 29160 (Jens Ehlers, in comments below)
Adaptec 29320 (Jens Ehrler, in comments below)
Adaptec 29320LPE PCI-E 1x U320 (by Shane Cook) and me
Step 2: Select your driver
Step 3: Configure Windows 10 to let you install unsigned drivers
Updated 2019/03/13: Shane's suggested method is now blocked by windows Secure Boot Policy… you can turn off the Secure Boot Policy, but the methods I found are more complex than the original method to do this… so I've reverted back.
Update 2018/12/31: Shane Cook (see comments) provided an easier way to install unsigned drivers. I've updated this post with his suggested changes.
Physically install your SCSI card in to your computer if you haven't already
Download either the AHA-29xx or AIC-78xx driver for your card if you haven't already
Unzip the zip file,

there should be a folder called: AdaptecAic78xx
the folder contains 3 files: djsvs.inf, djsvs.PNF, djsvs.sys

Hold down your shift key and select windows -> power -> restart
On the screen titled: Choose and option, select Troubleshoot (Figure 1)
On the screen titled: Troubleshoot, select Advanced options
On the screen titled: Advanced Options, select Startup Settings (you may have to select more options)
On the screen titled: Startup Settings, select Restart
After your computer restarts, on the screen titles Startup Settings, select Disable Driver signature enforcement (option 7 for me)
Wait for you computer to finish restarting, you should now be able to install the driver for your card.
Run Command Prompt as Administrator (added 2018/12/31)
In the Command Prompt Window run: bcdedit.exe /set nointegritychecks ON (added 2018/12/31)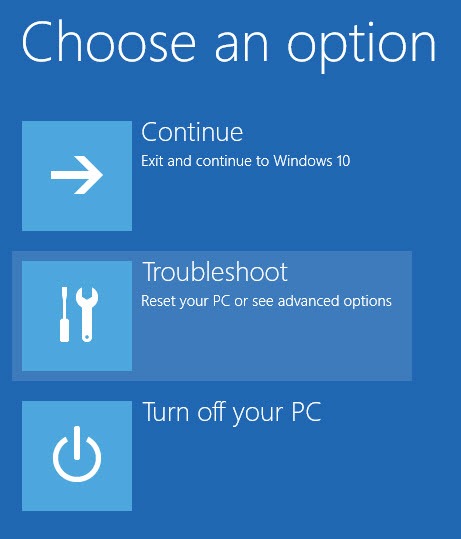 Step 4: Installing the Driver
Open Window's control panel
On the window titled: Control Panel, Adjust your computers settings, choose Hardware and Sound
On the window titled: Hardware and Sound, under the grouping Devices and Printers, choose Device Manager
On the windows titled: Device Manager, you should see an Under device manager you should see a grouping Other devices -> SCSI Controller, select SCSI Controller (Figure 2)
Right click on SCSI Controller, and select Update Driver
On the window titled: Update Drivers, select Browse my computer for driver software
Select the folder containing the driver you downloaded (Figure 3)
Windows should ask you if you want to install the unsigned driver (Figure 4), select install this driver software anyway.
Windows should install the driver (Figure 5)
The proper name for your card should be listed in the Device Manager (Figure 6)
Run Command Prompt as Administrator (added 2018/12/31)
In the Command Prompt Window run: bcdedit.exe /set nointegritychecks OFF (added 2018/12/31)
Turn off your computer
Connect a SCSI device to your computer and reboot. I tested with a Iomega Jaz 2GB drive. (Figure 7)
Steps 5: Using a connected storage device
I'm assuming that you mainly want to get a SCSI device connected to your modern system because you want to setup an old hard drive, or removable drive for use with a 68k Macintosh System, or some other SCSI system from that era.
As I mentioned in my intro paragraph, I originally connected an external hard drive and used Basilisk II's SCSI pass-through feature to setup the drive. I haven't been able to get SCSI pass-through working under Windows 10, so instead I now I attach the SCSI device/drive to my PC and then create a disk image to work with, then write the edited disk image back to the device/drive.