I recently acquired a SCSI2SD adapter to replace a failing SCSI drive from the 1990s, so thought I'd document some of the options I've found for initializing and partitioning bootable drives for classic Macintosh systems.
1. Limitations when initializing/partitioning a drive under System 6.x and System 7.x.
2. Deciding what types and sizes of partitions you plan to create
If you plan to use the Apple IIe card you will want to create at least one (max two) 32MB (yes MB) partitions that you'll later initialize as ProDos partitions to use with your Apple IIe card.
Otherwise, taking in to account the limitations above, and the "wasted space" if you have really large partitions filled with small files, it's really up to you.
3. Options for getting your drive initialized and partitioned
There are two main methods for getting your drive initialized and partitioned:
Connecting the drive you want to initialize and partition directly to your classic Macintosh system, then boot your system using one of the boot options I've previously listed (e.g. Floppy Drive, CD-ROM etc.) with the drive you want to initialize and partition attached as a secondary drive.
Connect your drive to a modern system, create an image based on that drive, then initialize and partition the image file, then write the image file back on to your drive.
For the 2nd option, I've tested the following methods to initialize and partition my drives: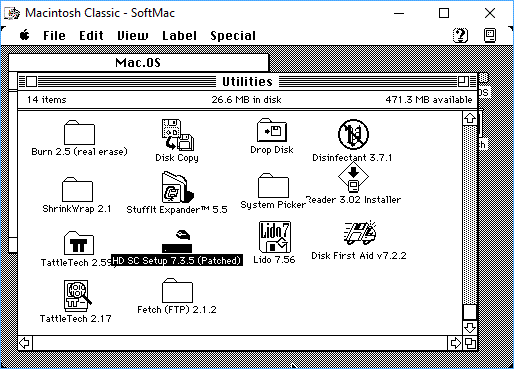 4. Initialize an image file
Assuming you've used one of my image files as your boot drive, or have a copy of the patched HD SC setup 7.3.5 on your image file:
Under Setup and Repair folder you will find a copy of a patched version of HD SC setup 7.3.5 (Figure 1)
Run HD SC setup 7.3.5 (Figure 2), SCSI Device 0 will be selected (Device 5 on MAME).
Press the Drive button to select SCSI Device: 1 (or whichever Device you mounted your image under, likely Device 5 on MAME) (Figure 3)
Press the initialize button to initialize the device, a warning message will appear (Figure 4), followed by a prompt to provide a name for the drive (I called mine 16GBSD)
Press the partition button to partition your initialized drive.
Wait, may take some time depending on the size of the image file (especially for MAME)
Select custom (Figure 5)
HD SC setup will show you the default partitions it set up when it initialized the drive (Figure 6).
Remove/edit the partitions as you see fit. If you plan to use an Apple IIe card I'd suggest setting up two 32Meg ProDOS partitions.