This entry builds on my entry for how to use Apple Remote Access Personal Server (ARA PS) to connect Basilisk II to a 68k Macintosh with AppleTalk over a null modem connection. Once that connection has been created between your Macintosh system and modern system running Basilisk II, you can use IPNetRouter to bridge the ARA PS's AppleTalk connection with Basilisk II's ethernet connection and surf the web from your Macintosh.
Speed
This is not a fast connection, AppleTalk adds overhead and TCP/IP adds even more on top. I plan to do some tests of classic networking using MacIP vs. Open Transport with Speed Doubler to see what the speed is like. As I mentioned in my ARA PS entry if you only want to transfer files the Zterm method is likely the fastest.
Quick Start
This guide assumes you've completed the steps described in my entry Apple Remote Access Personal Server (ARA PS) to connect Basilisk II to a 68k Macintosh with AppleTalk over a null modem connection and you have confirmed you have a working AppleTalk connection. Now with that connection off (exit out of ARA PS):
Setup Open Transport on your Basilisk II system
Setup IPNetRouter
Call in from your Macintosh System to Basilisk II
Open up a browser/FTP client on your Macintosh and Surf 🙂
1. Setup Open Transport
To use IPNetRouter you have to first install Open Transport on your Basilisk II's boot drive, this installs Open Transport 1.3.1 the last version to work System 7.5.5. If you are using one of my bootable images you can find the installation files for Open Transport 1.3 in the network folder
1.1 Install Open Transport 1.3
Open the network folder
Open the Protocols sub folder
Open the Open Transport 3.1 subfolder
Open the Install 1 subfolder (figure 1)
Run the installer (figure 2)
On the Open Transport Installation window:

Select custom install (figure 3)
Check Open Transport for 68k Macintoshes (mainly because that's what Basilisk II emulates)
Press the install button

You should see the Installation was successful message

Occasionally I've had Basilisk II crash during the install process, if that happens, reboot and repeat, for some reason the second attempt doesn't crash.

Press the Restart button (figure 4)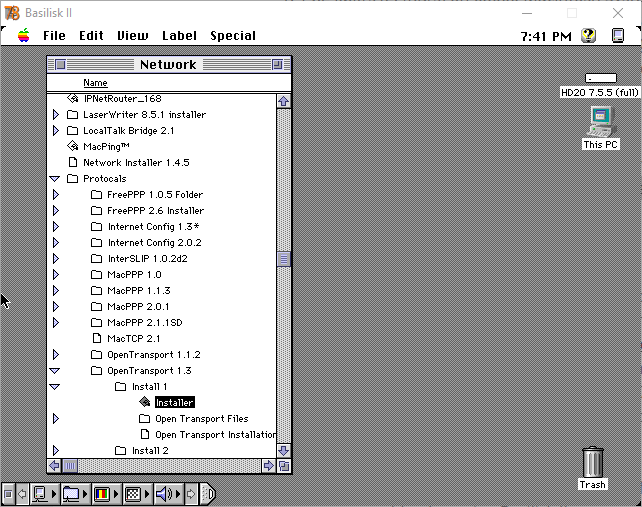 1.2 Setup Open Transport 1.3
You need to assign Basilisk II an IP address for connecting to your network. The numbers I'm entering in this example are based on my home network configuration, which is pretty standard and my work for you too:
My routers default IP Address range is: 192.168.1.1 to 192.168.1.255
My router has the address of 192.168.1.1 and my home networks gateway to the internet
My router acts as a DHCP server and dynamically assigns IPs in the range 192.168.1.100 to 192.168.1.255 (it does not automatically assign IPs below 100)
Subnet mask of 255.255.255.0
Name Server (DNS Server), for this guide I'm using Googles free DNS server, 8.8.8.8
You may have something different than the above and there are various ways to find out to use based on what Router and/or Operating System you are using.
Select the Apple Icon and select TCP/IP (figure 5)
On the TCP/IP window (figure 6):

IP Address: I chose 192.168.1.68 for two reasons, first, it's below 100 so will not be dynamically assigned, second 68 for 68k 🙂
Subnet mask: 255.255.255.0
Router address: 192.168.1.1
Name server address: 8.8.8.8

Select Edit -> User model (figure 7)
Select Advanced and press OK (figure 8)
Press Options… (bottom right of figure 9)
Uncheck: Load only when needed and press OK (figure 10)
Close the TCP/IP windows and save the configuration (figure 11)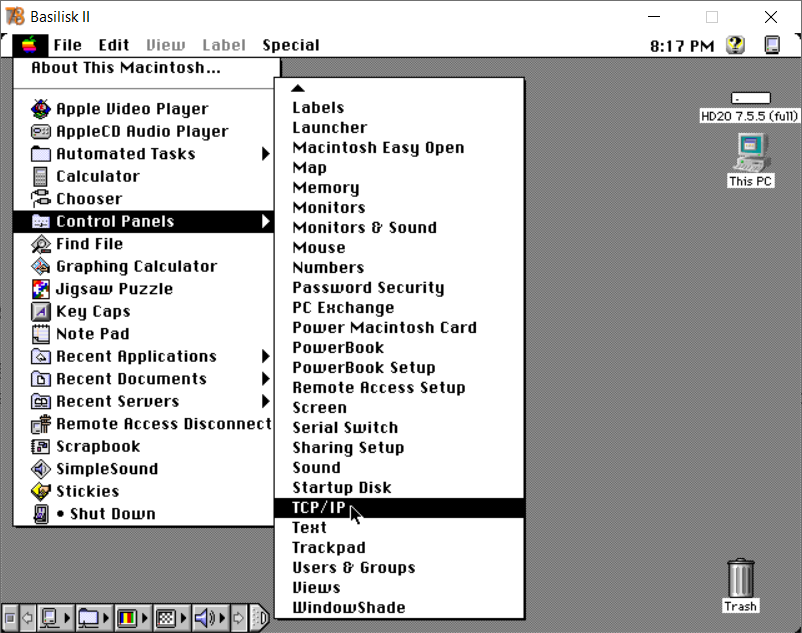 1.3 Test your connection
I strongly suggest you test your connection at this point to verify that your settings are correct. I used Netscape 2.02 to test my connection. You can find the installation file on my bootable images:
Open the network folder
Open the browser sub folder
Run the Netscape 2.02 installer
Run Netscape 2.02
Once Netscape is loaded select Options -> Security Preferences (figure 12)
On the Preferences: Security window (figure 13):

Check: Disable JavaScript, this will prevent JavaScript errors when you try to surf the web.
Press the OK button

Enter http://www.savagetaylor.com in the location browser and press return/enter
You should see the entry page for my site (figure 14, I'm hoping to create/find a WordPress plugin that feeds HTTP instead of HTTPS to old browsers)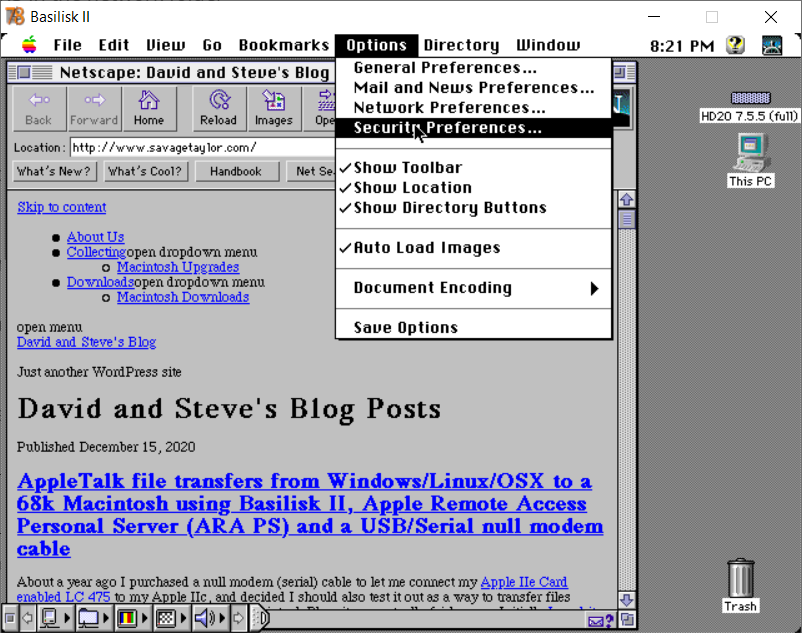 2. IPNetRouter
This is the key application for all of this to work, IPNetRouter was created by Sustainable Softworks and version 1.54 was the last version to work on a 68k system. I plan to add the trial version under the networks folder of my bootable images, the problem is it's only a trial version and will only work for 21 days and Softworks doesn't sell license keys for this version anymore. So a work around is before doing this step make a backup copy of the file you are using as Basilisk II's boot drive, so you can do a "new install" and reset the clock. There are likely other ways and I'll post here as I find them. Perhaps if enough people start using this method Softworks will start selling licenses again. I was provided with a registration key (see 2.2 below)
2.1 Setup IPNetRouter
Open the network folder
Open the subfolder bridges
Install IPNetRouter_154
Press the continue button (figure 15)
Press the install button (figure 16)
Press Yes for the "may need to be restarted" warning (figure 17)
Press Install to use the default installation folder (figure 18)
Press the restart button (figure 19)
For me Basilisk II didn't restart, so I had to manually start it again.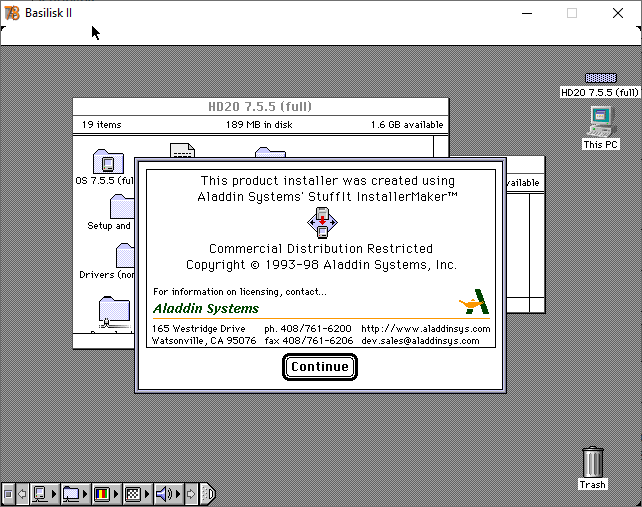 2.2 Using IPNetRouter
Now that it's installed you need to setup IPNetRouter as a software bridge that connects the AppleTalk connection created by Apple Remote Access Personal Server to the Ethernet Connection you setup in step 1.
Open the IPNetRouter68K folder (figure 20)
Run IPNetRouter 68k (figure 21)
Press the Accept button to begin your 21 day trial (figure 22), or select Register

Name: The Mac Community
Company: Worldwide
Date: leave blank
Copies: 5
Registration Key: 06E63F06

On the Interfaces window: (figure 23)
Select the first entry (Port Name Ethernet)
In the Configure Interfaces section:

Enable IP Masquerading
Press the Add button
The Ethernet line entry will be updated (figure 24)

Select the second line in the list (currently blank)

In the Configure Interfaces section:

Select AppleTalk (MacIP) in the dropdown (if that option isn't available your installation of AHA PS may not be working
Enter 192.168.0.1 for the IP address. This is the IP address that your Macintosh will use as a "gateway" to your network, you may have to use a different number. The key is the 2nd last didgit can't be the same for the ethernet address as the one you use for this address. E.g. for me, my Ethernet uses 192.168.1.###, so I'm using 192.168.0.### for my Macintosh network.
Enter 255.255.255.0 for the Mask
Press the Add button
An AppleTalk line entry will be added (figure 25)

Close the Interfaces window
DO NOT EXIT IPNetRouter, leave it running in the background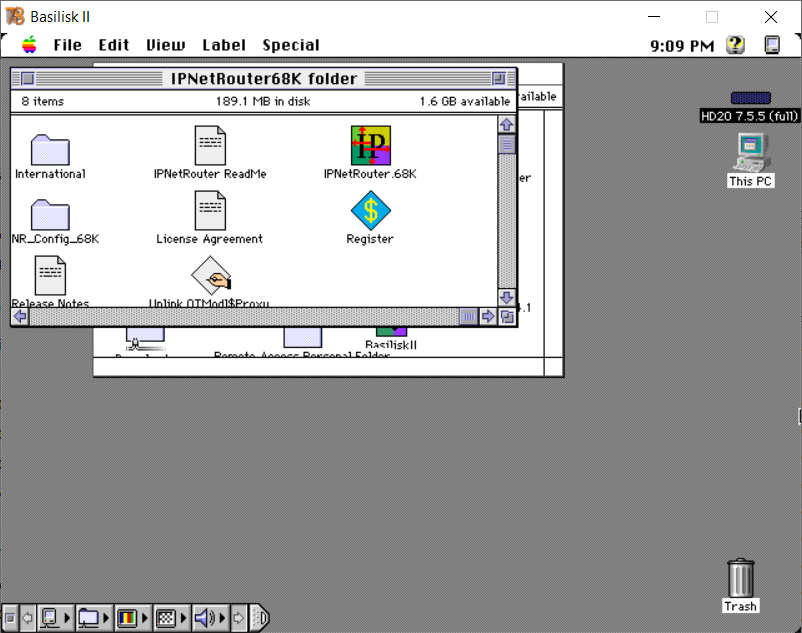 3. Call Basilisk II from your Macintosh using ARA PS
With IPNetRouter running and ARA PS installed and tested you're almost ready to surf the web on your Macintosh using your new TCP/IP over AppleTalk connection.
I found I had the best performance when my LC 475 "called" Basilisk II to create the connection, BUT, only the LC 475 could access the internet, and Basilisk II could only see my LC475. If I had Basilisk II call my LC 475 then Basilisk II could see my entire LocalTalk network and my SE (running 6.0.8 and MacTCP) could connect to the internet across LocalTalk connection to my LC 475 and then through my LC 475 to Basilisk II, I found this worked but is much slower, and prone to timeouts.
3.1 Setup Basilisk II to "receive calls"
Open the Remote Access Personal Folder
Run the Remote Access Personal application (figure 26)
Select Setup -> Remote Access Setup (figure 27)
On the Remote Access setup window (figure 28):

Modem: Select one of the Null Modem drivers, I suggest starting with 9600 or 19200 to start with, by LC 475 was able to handle 57600
Enable: Answer calls
Enable: entire network
Close the remote access window

Close the Untitled window (figure 29)
DO NOT EXIT ARA PS, leave it running in the background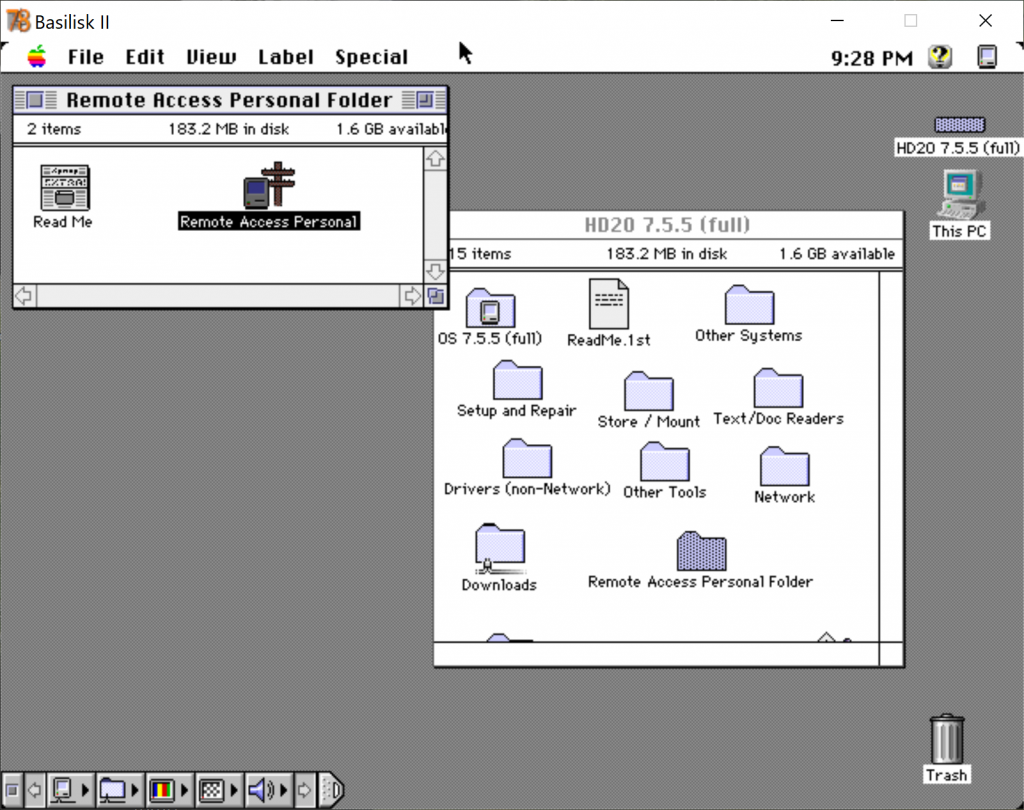 3.2 Call Basilisk II from your gateway Macintosh
Your gateway Macintosh is the one physically connected to your modern system with the null modem cable
On your gateway Macintosh configure your TCP/IP or MacTCP settings:

IP Address: 192.168.0.2 (assuming you set your AppleTalk gateway as 192.168.0.1)
Subnet mask: 255.255.255.0
Router address: 192.168.0.1
Name server address: 8.8.8.8
Close the TCP/IP or MacIP window
Save changes

I suggest you reboot your gateway Macintosh at this point
Open the Remote Access Personal Folder
Run the Remote Access Personal application
Select Setup -> Remote Access Setup
On the Remote Access setup window:

Modem: Select one of the Null Modem drivers, this needs to match the speed you picked for 3.1.4 above
Disable: Answer calls
Close the Remote Access windows

On the Untitled window: Select Guest if you did the same as me and allow Guest access, or enter the user name and password you want to use

Enter 0 in the number field
Press Connect
You should see the window "Remote Access Status" indicating you have a successful connection
Close the remote access status windows
Close the Untitled window

You will be prompted asking you if you want to save your configuration, you can if you want
DO NOT EXIT ARA PS, leave it running in the background
4. Surfing the Net on you Macintosh(es)
You should be ready to surf the net, I installed Netscape 2 on my LC475 with javascript disabled and was able to access several sites…. at essentially dial-up speed.