In one of my previous blog entries I mentioned that I could not include the full version of System 7.5.5 or System 6.0.8 with my drive images due to copyright restrictions, but you could download the full versions from Apple's FTP site…. that option is gone, and is now replaced with the files being available from the Internet Archive. So if you are using one of the drive image files I created with minimum versions of System 6.0.8 and System 7.5.5 this guide will tell you how to update to the full versions.
This blog entry covers:
selecting the language/country for the installation files,
selecting 7.5.5 and/or 6.0.8
setting up Basilisk II to use for the upgrade
updating the System files
writing the update image file to a real or emulated hard drive
1. Selecting the Language/Country
When you go to the Internet Archive you'll see a long, long list of links to the various files that used to be available from apple. You'll notice there are multiple versions of both System 7 and System 6 on the site for the various languages supported by the OS, you'll need to select which one you want to work with. For this guide I'm going to select the English north american versions.
download.info.apple.com/Apple_Support_Area/Apple_Software_Updates/English-North_American/Macintosh/System/
2. Selecting 7.5.5 and/or 6.0.8
I'm assuming you've already determined which version will or will not work on your Classic Macintosh or you're just using an emulator.
2.1. System 7.5.5
For System 7.5.5 there are 20 files you'll need to download from the Internet Archive. The first 19 are for System 7.5.3 and the last file is to upgrade System 7.5.3 to 7.5.5
The file to upgrade from System 7.5.3 to 7.5.5
2.2. System 6.0.8
For System 6.0.8 there are only 2 files you'll need to download.
3. Setting up Basilisk II to copy the System files on to one of my drive image files
I'm assuming you've already downloaded one of the image files I've created, and your using an emulator (Basilisk II, SoftMac etc.) to update the image file. As I mentioned in my post for creating drive images you can NOT use HFVExplorer to directly edit the images I provided, I instead use the My Computer option in Basilisk II to copy files on to my emulated drives. BUT you can use HFVExplorer indirectly by creating a partition image file and copying the files on to that new image, and then adding that file as a secondary volume.
I'm going to summarize the Windows approach for using my drive images. For this example I'm going to use the 100 MB Zip drive image file with the minimum version of 7.5.5 already installed (but this process will work for any of the image files I've created).
Download and install Basilisk II
Create a directory on your Windows/Mac/Linux system to hold the System files and the 100MB Zip drive image file
Download my TempDisk image file, this will be used as a secondary drive during this process
Run BasiliskII GUI
On the volumes tab (Figure 1):

add the 100MB Zip drive image file
add the TempDisk image file
enable "My Computer" icon on your Mac desktop

On the Memory/Misc (Figure 2):

increase the RAM size to 32MB
select the Mac IIci (MacOS 7.x) as the Mac Model ID
select 68030 as the CPU type
select the ROM file you want to use. I use a Mac LC III ROM.

Update any other settings you want to change
Exit BasiliskII GUI
Load Basilisk II
If everything went correctly you should see Figure 3.
4. Updating the System files
At this point you should have downloaded the sea.bin files from the archive (section 2 above), have Basilisk II running and be able to navigate to the folder on your system containing the downloaded files from the archive. For this example I mapped my Drive D: on my windows machine to the This PC icon in Basilisk II, and navigated to an folder called "OS" I created that holds all of the System files (Figure 4).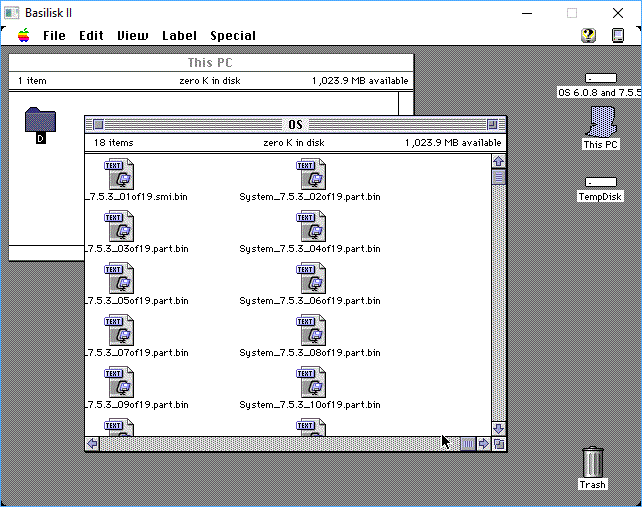 You'll need to "unwrap" the .bin files. The .bin extension indicates that the files have been MacBinary encoded, if you know about classic Macintosh Systems and how they store files you already know why, if not, you can read up on Resource Forks to learn why these files have to be wrapped (encoded) for transfer over the internet.
4.1. Installing System 7.5.3
Create an Installation Folder in Basilisk II on the TempDisk drive and select "This PC" and then copy the installation files from section 2 in to the Installation Folder you just created (Figure 5)

When you set up Basilisk II (BasiliskIIGUI) you should have mapped one or more drives on your PC to the "This PC" icon.

Open the OS 6.0.8 and 7.5.5 drive and under Utilities you will find a copy of Stuffit Expander 5.5 (Figure 6)
In your Installation Folder select all the files except file 01 of 19 and drag and drop them on to the Stuffit Expander 5.5 icon.

I used Edit "Select All" then hold down the Shift key and click the first file to deselect it.
If you get the message "The shrink wrap engine has reported an error" then you accidentally included file 01 of 19.  Try again without including it.  I believe if you include the 01 of 19 file in the original drag and drop then StuffIt Expander tries to both unwrap and expand this file, but to expand it StuffIt needs to append the other 18 files, because the remaining files aren't yet unwrapped StuffIt can't find them to append so it throws an error.  By unwrapping the 02 to 19 files first you avoid this issue.

Now select the file 01 of 19 and drag and drop on to the Stuffit Expander 5.5 icon
An icon called Sys7.5 V7.5.3 CD Inst should now be on your Mac Desktop (Figure 7)
Run the installer
You will see a message: The Installer cannot update the version of Macintosh System Software on the disk named "OS 6.0.8 and 7.5.5".  Please remove the System Folder on "OS 6.0.8 and 7.5.5" and try again.
Use the Switch Disk button to select TempDisk as the destination drive
You will now see a message: Click Install to place system software version 7.5.3 on the selected disk.
Leave the drop list as "Easy Install" (you need to do an Easy Install first to prevent an issue with the installer)
Press the install button
Press the continue button
In the drop down list change from Easy Install to Custom Install
Press the install button
Under System Software, select the universal install option (Figure 8)
Select Install (this upgrades your installation from one specific to your emulated system to one that will work on any system)
When the install has finished select Quit.
You will now see a System Folder on the TempDisk drive (Figure 9)
Copy the System Folder on to your Boot Drive (OS 6.0.8 and 7.5.5 drive) and rename it to something like OS 7.5.5 (full)
Open the OS 6.0.8 and 7.5.5 drive and under utilities run the application System Picker 1.0b10 by  by Kevin Aitken
Select the System 7.5.5 (full) from the list (Figure 10)
The new System 7.5.5 (full) folder is now the "blessed" System folder and will be used the next time you restart.
You can now optionally copy the Sys7.5 V7.5.3 CD Inst mounted disk on to your TempDisk drive or your Boot Drive (OS 6.0.8 and 7.5.5 drive) so you can use the installer to add/remove components in the future.
You should now reboot Basilisk II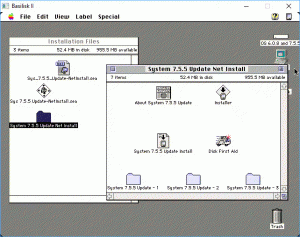 4.2. Upgrading from 7.5.3 to 7.5.5
Create an Installation Folder in Basilisk II on the TempDisk drive and copy the Sys_7.5.5 Update file from section 2.1 in to that folder (Figure 10)
Open the OS 6.0.8 and 7.5.5 drive and under Utilities you will find a copy of Stuffit Expander 5.5 (Figure 6)
Drag and drop the Sys_7.5.5_Update-NetInstall.sea.bin file on to the Stuffit Expander 5.5 icon.
You should now see the folder System 7.5.5 Update Net Install (Figure 11)
Open the folder and run the installer
The installer should by default be point to your Boot Disk (in this case the OS 6.0.8 and 7.5.5 drive)
Select Install
When the install has finished select Quit.
The System Folder on the OS 6.0.8 and 7.5.5 drive has now been updated to a full install of System 7.5.5
Restart
4.3. Installing System 6.0.8
Create an Installation Folder in Basilisk II on the TempDisk drive and copy the installation files from section 2.2 in to that folder (Figure 15)
Open the OS 6.0.8 and 7.5.5 drive and under Utilities you will find a copy of Stuffit Expander 5.5 (Figure 16)
Drag and drop the two SSW_6.0.8-1.4MB_Disk filea on to the Stuffit Expander 5.5 icon. (Figure 16)
Stuffit Expander will show a message box saying "Two of the files you expanded…." ignore the sales pitch and select ok. (Figure 16)
You should now have 2 disk image files (Figure 17)
Open the OS 6.0.8 and 7.5.5 drive and under Utilities you will find a copy of Drop Disk (Figure 17)
Drag and drop the 2 disk image files on to the Drop Disk icon (Figure 17)
There should now be two disk images mounted on the Macintosh Desktop (Figure 18)
Open the System Startup "drive" and select install
The TempDisk should already be selected as the install drive, if not, press the Switch Disk button until it is. (Figure 19)
Select the customize button (Figure 19)
Select what version of System 6.0.8 you want to install, I suggest the "any Macintosh" version (Figure 19)
Press the install button (Figure 19)
You will now see a System Folder on the TempDisk drive (Figure 20)
I suggest renaming this folder to something like System 6.0.8 (full) (Figure 20)
Copy this System folder and the Apple Extras folder on to the OS 6.0.8 and 7.5.5 drive (Figure 20)
Exit out of Basilisk II and make a backup copy of the OS 6.0.8 and 7.5.5 image file

This step is critical, once you complete steps 18 to 20 you will no longer be able to boot this image file in Basilisk, you will be able to load it as a secondary drive though.

Reload Basilisk II.
Open the OS 6.0.8 and 7.5.5 drive and under utilities run the application System Picker 1.0b10 by by Kevin Aitken (Figure 21)
Select the System 6.0.8 (full) from the list (Figure 21)
Restart
Basilisk II will fail to load (see warning on step 17) (Figure 22)
Exit Basilisk II (I had to kill the process using ctrl-alt-delete)
5. Using the drive image
I've written a previous blog entry on how to create drive images and write them back to a physical media