I recently purchased a SCSI2SD V.5 adaptor (3.5″ and 2.5″) to replace a failing 1980s SCSI HD, and realized once I had it set up I could "image" the Micro-SD card to make boot-able images anyone could use.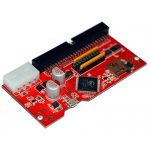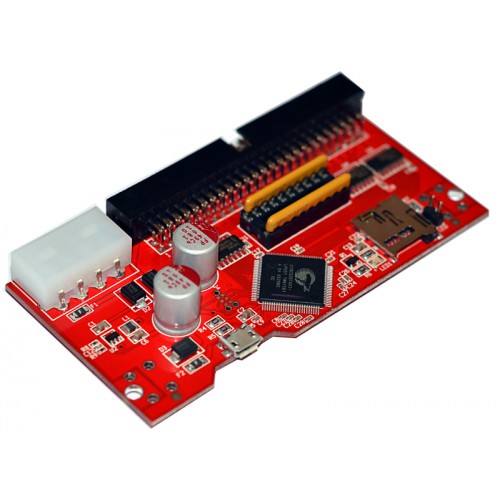 So, similar to my entry on setting up using a floppy disk, and setting up using an Iomega Zip Drive, I created boot images for System 6.0.8 and System 7.5.5 for setting up an SD card for use with SCSI2SD. Note, this is one of many, many options available to you for booting your classic Macintosh.
UPDATE: I have created a much easier way to use your SCSI2SD with your Macintosh system. The new image will setup your 32GB card with a FAT32 formatted partition that contains a set of volume files that you can easily mount and edit using Basilisk II, Mini vMac, or some other tool.
What you need
A 68k Macintosh that turns on, and is prompting you to insert a disk. If your 68k Macintosh does not turn on, or does not show the insert disk icon, you may need to do some repair work before you proceed.
A working internal or external SCSI connection, you will need to have an SCSI enclosure or an external adapter for your SCSI2SD adaptor so to use it externally. Note, for Powerbook systems that only support 2.5″ SCSI drives, a Powerbook Edition of the SD2SCSI adaptor can be used to replace the internal drive. The SCS2SD will work for the majority of 68k Macintosh computers except: The 128K, 512K*, 512Ke*. These three 68k systems do not support internal or external SCSI. You will need to use one of the other setup methods I've previously identified, with the best option being buying and using Floppy-Emu to boot from 400KB SS SD floppy disk images. * There are some rare 3rd party upgrades that add a SCSI port to 512K systems.
A SCSI2SD adaptor

, you MAY be able to use these images with a Compact Flash card of the correct size and a

CF2SCSI

adapter, if you can, let me know.

A

SD or MicroSD card you plan to use with your SCSI2SD adaptor.
Quick Start
These steps are a summary of the information in the sections below
Update your SCSI2SD with the latest firmware
Download my 2GB System 6.0.8 or System 7.5.5 drive image (compressed to around 50Megs), remember not all 68k Macs support all system versions, System 7.5.5 is the most supported but requires 2MB ram minimum.
Download my SCSI2SD v3/v4/v5.x config files, select the right one (1/2GB and plus/not plus), load it in the SCSI2SD setup software, and write to your SCSI2SD adapter (settings stored on the adapter, NOT your card), may work with v.6.x but I'm not sure (see section 3 for settings)
Use balenaEtcher (Windows/Linux/Mac) or DD (Windows/Linux/Mac) to write my drive image file to an SD card
Insert the SD card in to your SCSI2SD, connect to your Mac and boot, NOTE: for the Plus the SCSI2SD needs to be connected to a power source to work, USB power is the easiest.
1. Updating to the latest firmware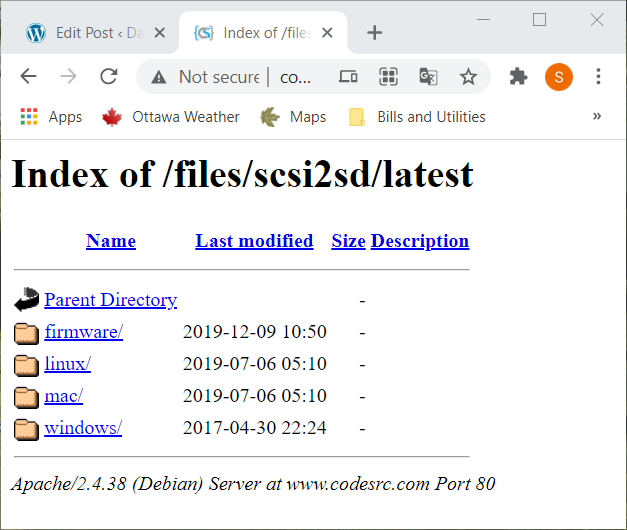 Connect your SCSI2SD board to your modern system via USB
Download the latest firmware and scsi2sd-util software for your SCSI2SD adapter (figure 1)
Run the scsi2sd-util software (figure 2)
Upgrade your firmware (figure 2,3,4)
2. Use my Drive image files
I've created drive images (bit-by-bit copies including the boot drivers and partition table) containing the minimum versions* of System 6.0.8 and System 7.5.5, and several utilities and drivers. I haven't created any image files larger than 2GB, I'm assuming if you have a card larger than 2GB you plan to setup your SD card as multiple drives (see Section 3.2 below). That's what I did for my LC 475.
You will need to:
decided which System version you want to work with, I've created another entry that lists which System Versions are support by which 68k Macintosh Computers
download the latest 2GB drive image from my downloads page (~50MB compressed)
upgrade the minimal System 6.0.8 or minimal System 7.5.5 installations on my images to the full version, I can't include the full versions on my images due to copywrites held by Apple. Note, you can skip this step, the minimal versions will boot, but if you do it now you won't have to do it later.
add any other applications/games you want to my image using Basilisk II, the same application you used to get the full versions of System 6.0.8 and/or 7.5.5. on to the image.
Optional, if you don't want to to use one of my images, you can create your own, or initialize your SCSI2SD in your Macintosh:
Create a image using SoftMac
Create a image using MAME
use some other method to boot, e.g. boot from a floppy, CD, etc. then initializing your SD card in your vintage Macintosh.
3. Configuring your SCSI2SD adapter
You will need to configure your SCSI2SD adapter based on the size of SD or microSD card you plan to use. Since I do NOT have a SCSI2CF adapter I can't provide any guidance for you, or know if you even have to do anything.
Remember to save the configuration to a file. It is NOT stored to your SD CARD, it is stored on the SCSI2SD adapter. If you switch between cards with different configurations you will need load the save config file, or manually enter the proper drive sizes for the card before using it, or the "drives" will get corrupted
Format the SD card you plan to use, if you are using windows I suggest doing a full format vs. a quick format to make sure the card is wiped clean and has no errors.
Download the correct setup software from CodeSRC, make sure you get the correct software based on your version of the adapter v3/v4/v5 vs. v6. The software is available for Windows 32, Windows 64, Linux and Macintosh OS X.
Run the setup software
Insert the SD or microSD card in to your SCSI2SD adaptor
Connect the USB cable from your computer to your SCSI2SD adaptor
3.1. Setting up Device 1 using my images
If you don't want to manually set this up, you can download my SCSI2SD config files for my 1GB and 2GB images (may not work on a SCSI2SD 6.x), the .zip file also includes the config files for the Macintosh Plus with the required extra settings (see section 5). To use download, unzip, and in the SCSI2SD-util choose file -> load -> and select the .xml file for the image you are using. The config file is set up everything for Device 1 with SCSI ID 0.
Select device 1
Set the sector size to 512
Set the sector count size based on the size of the image file

my 2GB image file is 1,971,322,880 bytes, so the sector count is 1,971,322,880 / 512 = 3850240
my 1GB image file is 985,661,440 bytes, so the sector count is 985,661,440 / 512 = 1925120

The device size should auto adjust, e.g. for the 2GB image file the size is 1.84 actual GB (a MB, GB etc. should be a multiple of 1024, but for marketing reasons storage uses a multiple of 1000)
You should be able to leave the rest of the settings as the default unless you have a reason to change the values (see Figure 5)
Select save to device

If you get the message "Save Failed" you've set the total sector size of your Device to be larger than what your card can hold.

Once saving is complete disconnect the USB cable from the SCSI2SD adapter
Eject the SD card from the SCSI2SD adapter go to section 4.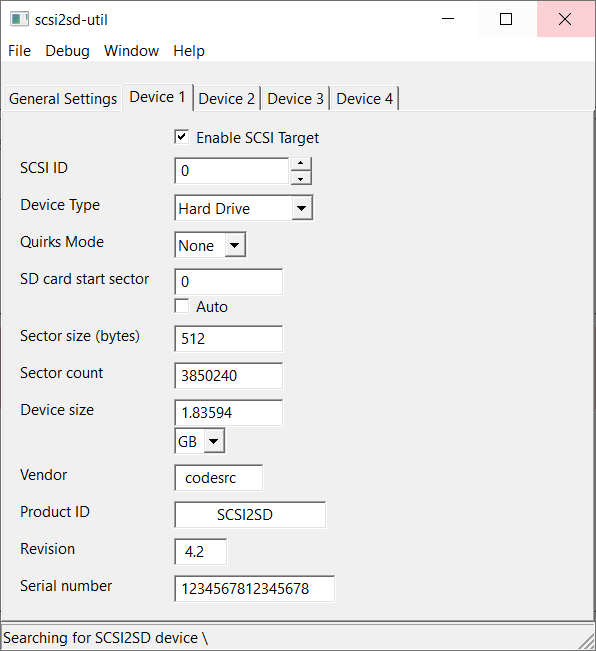 3.2. If you want to setup your SD card as multiple drives:
For this example I'm going to use a 32GB SD card (31,994,085,376) (see Figure 6), and my 2GB image file (1,971,322,880 bytes) for my SCSI device 0.
Follow the steps from section 3.1 above to setup device 1 based on the size of the image file you selected as your SCSI device 0.
Select Device 2 (Figure 6)
Select Enable SCSI Target
For SD card start sector, select Auto
For this example, because I used 1,971,322,880 bytes for device 1, I now have 30,022,762,496 bytes left to work with, which is equal 58,638,208 sectors (30,022,762,496 / 512)
I'm going to split up that space in to 3 more devices, so I can have 2 ProDOS partitions for each device to use with my Apple IIe card.

Device 2:
Device 3:
Device 4:

If you plan to use DD to extract the volumes from your SD card so you can edit them with Basilisk II or mini vMac, you will want to put some thought in to where you start and stop each device on the card, and each volume within each device, I provide an example in my entry for how I setup my SCSI2SD for use with my Apple IIe card.

I suggest that you leave about 50 to 100MB empty (100,000 to 200,000 sectors) un-allocated at the end of your SD card to prevent future issues if you want to backup and restore the contents of your SD card to a different SD card. As I mentioned earlier the available space on these cards isn't standard, and can vary by 50 to 100MB.

Once you've finished setting up the Device tabs, press the Save to device button.

If you get the message "Save Failed" you've set the total sector size of your Device(s) to be larger than what your card can hold.

Once saving is complete disconnect the USB cable from the SCSI2SD adapter
Eject the SD card from the SCSI2SD adapter go to section 4.
4. Copying the image file to your SD, microSD or CF Card
Use balenaEtcher or DD to write my drive image file to an SD card. Once your done, insert the SD card in to your SCSI2SD adapter, connect the adapter to your classic Mac's SCSI bus, and you're ready to go. (see notes for Macintosh Plus below)
If you don't know how to use DD, I've created a separate blog entry on how to use DD on Windows, Linux and modern Macs to both write images to an SD card and other media, and create images from the contents of an SD card or other media.
If you used option 3.2 above and created more than one "drive" on your SD card, you'll need to initialize and partition the additional drive(s) once you've booted from the first drive on your 68k Macintosh. If you plan to use any System older than System 7.5.2 do not create partitions larger than 2GB.
5. Extra Steps for the Macintosh Plus
The Macintosh Plus doesn't fully implement the SCSI standard, to get your SCSI2SD adapter to work you may need to provide extra power to the adapter through it's USB port.
Also under the SCSI2SD card's general settings:
Enable Unit Attention = OFF
SCSI Selection Delay = 0
Respond to short SCSI selection pulses = ON
Thanks to Huxley Dunsany for pointing out the settings, and James Thomson for confirming they worked on a 2nd system.
6. Another Option for setting up your SCSI2SD
Remember you could always start with one of my images set as SCSI 0, but once you have your SCSI 1 drive setup how you want, go back in to the SCSI2SD config software, and switch the SCSI IDs, so that my image becomes SCSI 1 (or later) and your newly created, partitioned drive becomes SCSI 0 (your boot drive). This will let you create a SCSI 0 boot drive partitioned exactly how you want.